Video by
lightinthebox
We've obtained authorization from the supplier or seller to use the product photo; they've guaranteed its ownership or legitimacy of usage, and we are held responsible for all actions Should you believe that the photo violates your copyright, please contact us with evidence, and we will take action immediately 
Report Copyright Infringement
1-Light 75cm Acrylic Dimmable Pendant Light LED Chandelier Adjustable Note Design Modern for Home Livingroom Lighting ONLY DIMMABLE WITH REMOTE CONTROL
#6989139
USD $174.99
USD $322.38
46% OFF
Copyright Violation Instructions
Please note:
When you choose pictures that need to be customized, you must ensure not to violate any copyrighs. If, after the completion of the customization, any copyright infringement problems should occur, we cannot be held responsible for those. Please make sure you agree to our Terms and Conditions. If you do not have any further questions you can click OK to continue shopping. Thanks again for choosing to shop with us.
Please make sure you agree to our Terms and Conditions.
Reviews(25)
Overview
Recommendations
Reviews(25)
Overview
Recommendations
Overview
Lightinthe Box Pendant Light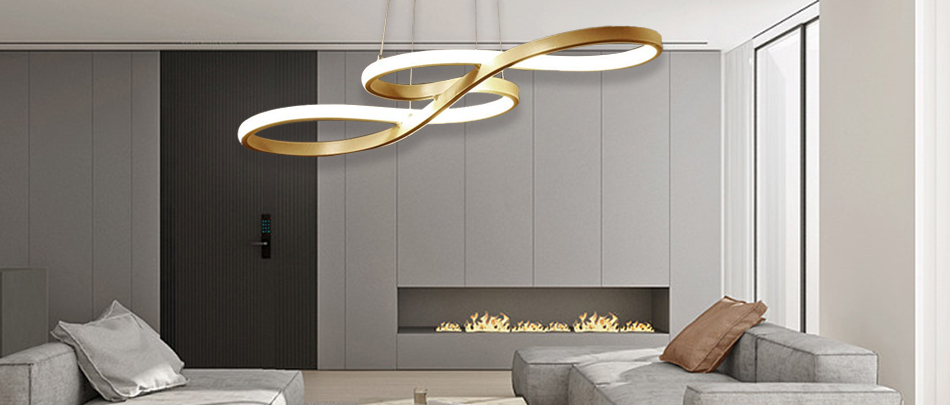 1
The adjustable wire length is easy to control the chandelier length according to your ceiling height. Combined with classical industrial shape and contemporary white acrylic brings unique and artistic atmosphere for your house.
2
Designed with dimmable remote control, it is convenient to change the light color and brightness from 3000k warm light to 6000k cold light, which not only creates warmth for your room but also provides a ideal brightness.
3
Made of high-quality acrylic and durable aluminum alloy, this led chandelier is anti-faded, anti-scratch and anti-corrosion. Bulb included and Led integrated, patch imported light source which is high-temperature resistance, better light transmission and heat dissipation.
4
Bulb includes and led integrated that is more energy-saving and environmentally friendly than traditional bulbs. Adjustable color and brightness design will be no glare and no flicking, which is eye-protect and comfortable for using.
5
It is perfect for decorating in dining room, bedroom, living room, kitchen, restaurant foyer, hallway, office, hall villas, entryway, stairway, stairs and will never be out of date.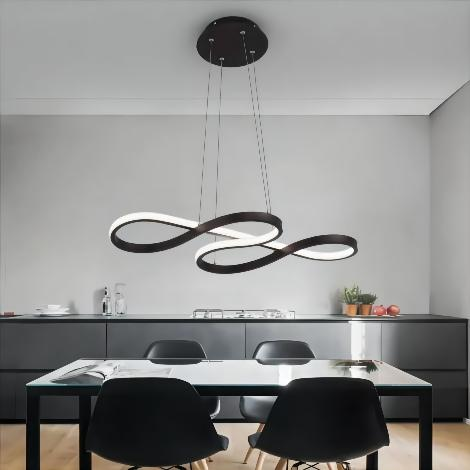 Black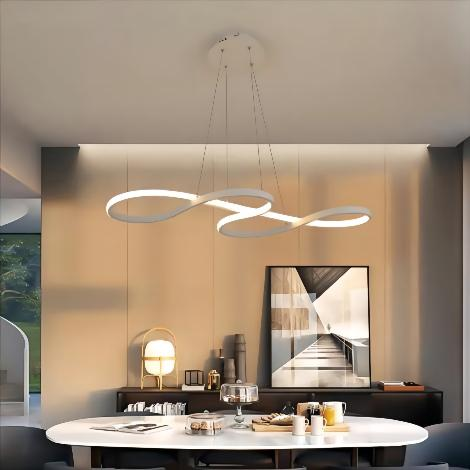 White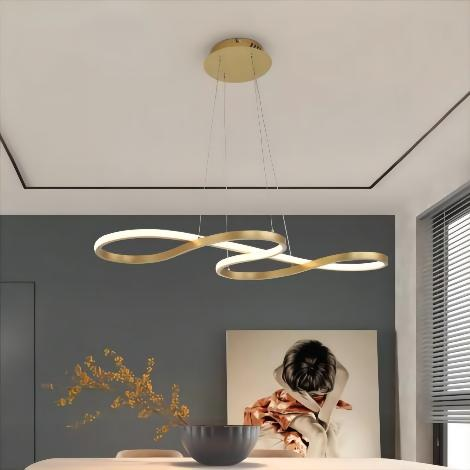 Gold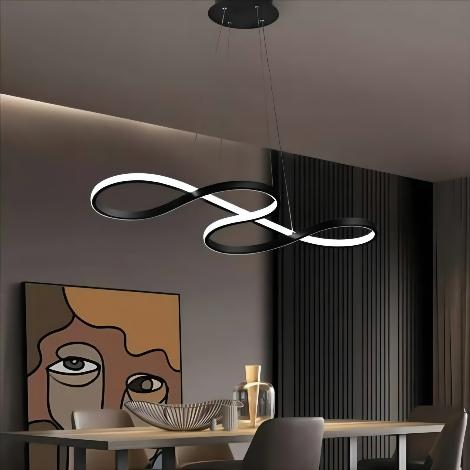 Black
Specifications
Light Information
Type:
Chandelier
,
Style:
Modern
,
LED
,
Features:
Line Design
,
Circle / Round Design
,
Suggested Space Fit:
Dining Room
,
Living Room
,
Voltage (V):
100-240
,
Certification:
CE Certified
,
Suggested Room Size:
15-20㎡
,
Finish:
Painted Finishes
,
Light Direction:
Ambient Light
,
Design:
Island
,
Sputnik
,
Dimensions
Fixture Height (cm):
5
,
Fixture Width (cm):
30
,
Fixture Length (cm):
75
,
Chain/Cord Length (cm):
100
,
Chain/Cord Adjustable or Not:
Chain / Cord Adjustable
,
Bulb Information
Initial Lumens (lm):
4000
,
Bulb Type:
LED
,
Color Temperature (k):
3000/6000
,
Number of Bulb:
1-Light
,
Light Source Included or Not:
LED Light Source Included
,
Wattage per Bulb (W):
50
,
Bulb Base:
LED Integrated
,
Material
Fixture Material:
Metal
,
Shade Material:
Silica gel
,
Decoration Material:
Metal
,
Photos
Learn More About This Product
Unit Conversion
>>> 1 cm=0.39 inch ; 1 inch=2.54 cm
>>> 1 m=3.28 ft ; 1 ft=0.3048 m
Voltage Selection
United States
Canada
Brazil
Mexico
Japan






Brazil
New Zealand
Australia
Ireland
France
Singapore
United Kingdom
Israel
Sweden
Russian Federation
Belgium
Chile
Italy
Switzerland
Norway
Angola
Spain
Finland
Denmark
Germany
Netherlands
Greece