Photo by
Supplier
We've obtained authorization from the supplier or seller to use the product photo; they've guaranteed its ownership or legitimacy of usage, and we are held responsible for all actions Should you believe that the photo violates your copyright, please contact us with evidence, and we will take action immediately 
Report Copyright Infringement
Dog Cooling Vest Harness, Breathable Cool Pet Cooler Vest for Outdoor Training Walking Hiking, Summer Cooling Jacket for Small Medium Large Dogs
#9147469
USD $51.99
USD $103.97
50% OFF
Copyright Violation Instructions
Please note:
When you choose pictures that need to be customized, you must ensure not to violate any copyrighs. If, after the completion of the customization, any copyright infringement problems should occur, we cannot be held responsible for those. Please make sure you agree to our Terms and Conditions. If you do not have any further questions you can click OK to continue shopping. Thanks again for choosing to shop with us.
Please make sure you agree to our Terms and Conditions.
Overview
Reviews(4)
Recommendations
Overview
Reviews(4)
Recommendations
provide various sizes for dogs of different ages and sizes, including XS, S, M, L, XL, 2XL. Please measure your pet before buying to choose the right size. (It is recommended to leave 2 fingers space between the tape measure and the dog's neck and chest to ensure that the dog is comfortable to wear).

★More Comfortable To Wear — 3 layer cooling material: The surface mesh helps prevent UV, and has good breathability to evaporate water to take away heat. The absorbent cotton of middle layer stores water to provide a constant coolness source for the dog by evaporation endothermic principle, but it will not wet the dog's hair to cause skin diseases. The bottom cool fabric is light, breathable and safe to bring cool comfort to the pet.

★More Durable — We consider the impact of large dogs when they move, so size XL-2XL has added a webbing design across the body, the dog can move freely without tearing the cooling vest. Moreover, the dog cooling harness can be adjusted in a small range by a widened adhesive strap, coupled with the fixed buckle, more firm to wear!

★More Convenient to Use — Soak the dog apparel with water, wring it out fully, then easily put it on your dog by fastener and buckle, also easily take off it without use. And the lightweight aluminum D-ring on the dog ice coat's back can link to the pet's leash, get rid of the harness, make it easier for pet lovers to walk the dog.

★More Satisfactory Service — The dog cooling harness vest allows the dog to play healthy and happy in the hot summer, like walks, training, climbing, etc. Coppthinktu team is a professional and responsible pet lover. We provide you with 30 days of free return and 24-hour service. If you have any questions when purchasing, please feel free to mail us.
Specifications
Compatibility:
Cat
,
Dog
,
Material:
Cotton
,
Polyester
,
Net
,
Type:
Harness
,
Style:
Adorable
,
Cute
,
Pattern:
Solid Colored
,
Occasion:
Casual Daily
,
Dailywear
,
Season:
Summer
,
Spring
,
Function:
Soft
,
Comfortable
,
Quantity:
1 PC
,
Dog Breeds:
Toy Poodle
,
Japanese Spitz
,
Baby Pet
,
Corgi
,
Beagle
,
Bulldog
,
Shiba Inu
,
Cocker Spaniel
,
Pug
,
Bichon Frise
,
Schnauzer
,
Pekingese
,
Papillon
,
Husky
,
Shih Tzu
,
Labrador
,
Dachshund
,
Alaskan Malamute
,
Poodle
,
Golden Retriever
,
Maltese
,
Chihuahua
,
Dalmatian
,
Pomeranian
,
Border Collie
,
Photos
Size Chart
| Size | Chest | Neck |
| --- | --- | --- |
| XS | 37-42 | 26-28 |
| S | 40-46 | 28-32 |
| M | 45-52 | 32-35 |
| L | 50-56 | 36-40 |
| XL | 56-66 | 44-48 |
| 2XL | 65-76 | 48-52 |
| 3XL | 76-90 | 60-65 |
Learn More About This Product
1.When shopping for short coats or dresses the standard focus is "chest" measurement. The standard for longer coats is the "back" measurement. For items like pants or diapers, "waist" measurement is the standard.
2.If between sizes, please size up.Always choose sizes according to the latest measurement of your pet.
3.Your baby usually wears size S doesn't mean all size S will fit him/her. Different designers and manufacturers use their own size charts.
4.If your pet is under one year old and still growing, please take this into consideration.
Please always choosing the size by the measurement of your pet (The chest girth and back length), not the weight or breeds simply. Your carefully choice will avoid plenty of inconvenience of returns.
Frequently Asked Questions
For a Baby Pet
Standard weight is Less Than 1.5 KG, Standard Chest is Less Than 30 cm
For a Small Cat, Toy Poodle, Pomeranian, Chihuahua, Maltese (Dog)
Standard weight is Less Than 1 ~ 3.5 KG, Standard Chest is 35 cm
For a Big Cat, Standard Poodle, Mini Dachshund, Maltese (Dog)
Standard weight is 3 ~ 5.5 KG, Standard Chest is 45 cm
For a Dachshund, Shih Tzu, Pekingese, Miniature Schnauzer, Bichon Frise
Standard weight is 5 ~ 7 KG, Standard Chest is 50 cm
For a Pug, Cocker Spaniel, Shiba Inu, Standard Schnauzer, Toy Bulldog
Standard weight is 7 ~ 9 KG, Standard Chest is 55 cm
For a Bulldog, Pug, Shiba Inu
Standard weight is 9 ~ 12 KG, Standard Chest is 60 cm
For a Beagle, Corgi, Japanese Spitz
Standard weight is 12 ~ 15 KG, Standard Chest is 70 cm
For a Border Collie, Dalmatian
Standard weight is 15 ~ 20 KG, Standard Chest is 80 cm
For a Golden Retriever, Alaskan Malamute, Labrador Retriever, Siberian Husky
Standard weight is 21 ~ 35 KG, Standard Chest is 90 cm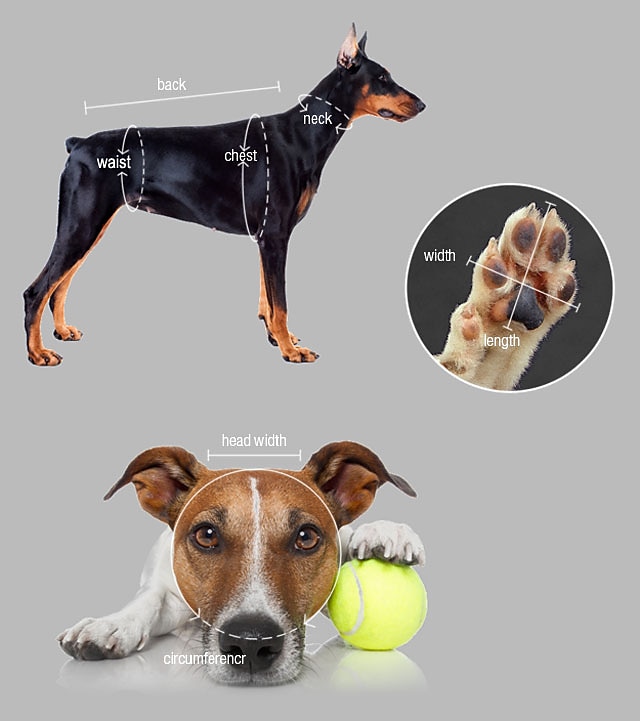 Report Copyright Infringement
Report Copyright Infringement
Successful Submit!
Thank you for submitting this report We will process as soon as possible
A new item has been added to your Shopping Cart.