Video by
lightinthebox
We've obtained authorization from the supplier or seller to use the product photo; they've guaranteed its ownership or legitimacy of usage, and we are held responsible for all actions Should you believe that the photo violates your copyright, please contact us with evidence, and we will take action immediately 
Report Copyright Infringement
Dog Training Collar Anti Bark Collar Shock Collar Adjustable Length Remote Controlled Sound Dog Electric Dog 500M Range Waterproof Automatic Case Included Adjustable Flexible Safety Resin Nylon ABS+PC
#7744524
USD $48.99
USD $129.97
63% OFF
Copyright Violation Instructions
Please note:
When you choose pictures that need to be customized, you must ensure not to violate any copyrighs. If, after the completion of the customization, any copyright infringement problems should occur, we cannot be held responsible for those. Please make sure you agree to our Terms and Conditions. If you do not have any further questions you can click OK to continue shopping. Thanks again for choosing to shop with us.
Please make sure you agree to our Terms and Conditions.
Overview
Reviews(50)
Recommendations
Overview
Reviews(50)
Recommendations
3 Effective Training Modes. Dog training collar has 3 effective modes: Beep ,Vibration Mode and Static Shock Mode. You can select the most suitable mode and reasonable level to help correct your dog inappropriate behaviors according to acceptance performance of the dog. Both the vibration and shock have 8 intensity level.Our lowest and highest intensity is same with those 99 levels product ,but we think 8 or 9 levels is best, dog can feel change in levels but not sudden.Dog understand better.

Advanced High-tech Chip&Safety-lock feature.With this chip, the receiver will send out blue flashing light while working so that you can know the working status and avoid sending repetive command.Smart dog training collar will automatically go into timeout status if you continuously press shock or vibration button for 10s, so as to protect your dog from damage. And the vibration and shock function can not be delivered until you release and press the button again.

Humanized Remote& 1968 FT Remote Range-Dog training collar with separated buttons let you quickly switch without confusing complexities.It provides a remote range up to 1968 FT, so you can easily control your dog even when he plays outdoors.It is made of superior ABS material to make you feel comfortable in your hand. The metal decorative pieces on it makes it more artistic.And also,the belt is made of high quality reflective nylon material ,it's anti-bite.

IPX7 Waterproof collar receiver works well even if immersed in water, so your dog can swim or bath freely with the collar and receiver on.In addition,our product has 90 days super long standby time,much better than most of product in the market.The rechargeable remote and receiver can be charged at the same time. Just 2 hours fully charged to get long-lasting use. The collar can be stored without use for 15 months or more!
 Click Here is product Instruction Manual
 

Tips: In order to ensure the normal use of the dog trainer, please use it after charging. Please unplug the power supply in time after charging.
1.
Function: Safety - Bark collar is a great way of training using only sound and vibration, and is safe to wear inside and out complying to the highest safety standards.,
Specifications
Compatibility:
Dog
,
Power Supply:
Chargeable
,
Material:
ABS+PC
,
Nylon
,
Resin
,
Type:
Shock Collar
,
Anti Bark Collar
,
Dog Training Collars
,
Features:
Adjustable Length
,
Electric
,
Sound
,
Remote Controlled
,
Dog
,
Voltage (V):
220-240
,
Training:
Obedience Training
,
Behaviour Aids
,
Clickers
,
Product Dimensions (cm):
0.000*0.000*0.000
,
Net Weight (kg):
0.3
,
Package Dimensions (cm):
17.500*15.500*5.000
,
Function:
500M Range
,
Adjustable Flexible
,
Case Included
,
Automatic
,
Safety
,
Waterproof
,
Photos
Learn More About This Product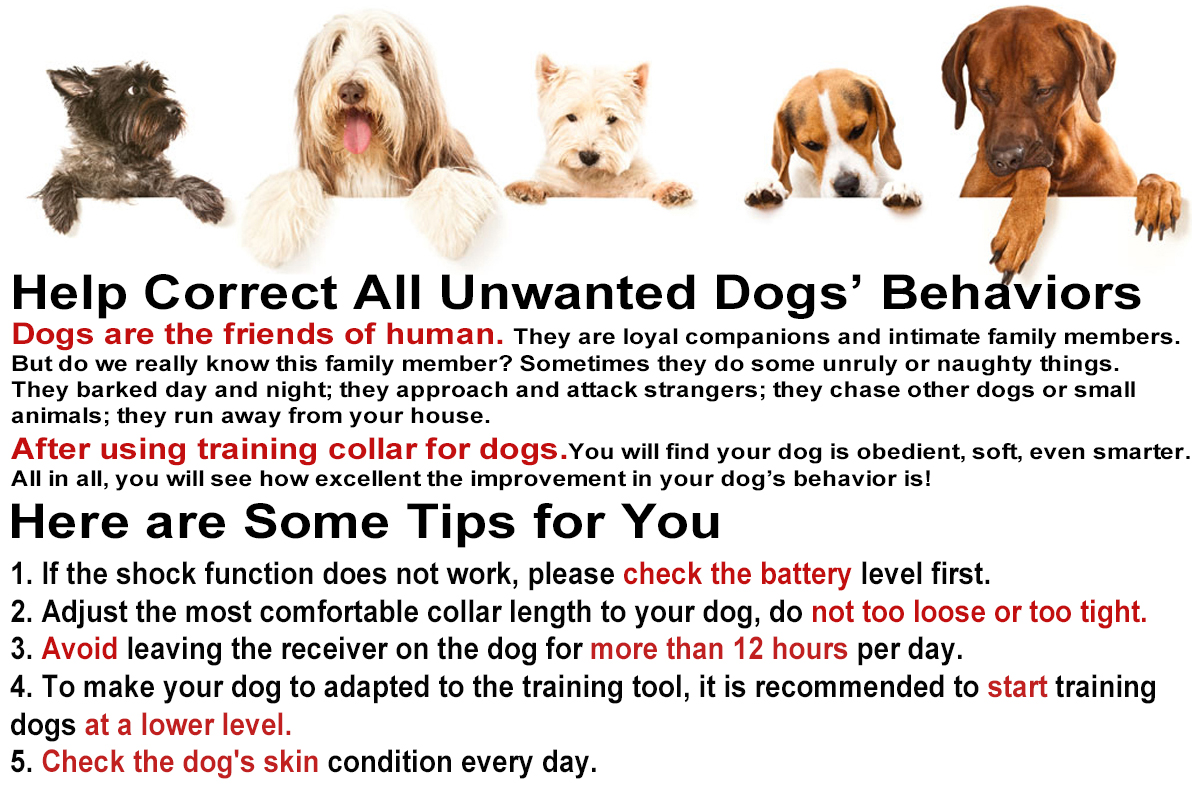 Help Correct All Unwanted Dogs' Behaviors:
Dogs are the friends of human.
They are loyal companions and intimate family members. But do we really know this family member? Sometimes they do some unruly or naughty things. They barked day and night; they approach and attack strangers; they chase other dogs or small animals; they run away from your house.
After using training collar for dogs.
You will find your dog is obedient, soft, even smarter. All in all, you will see how excellent the improvement in your dog's behavior is!
Here are Some Tips for You:
1. If the shock function does not work, please check the battery level first.
2. Adjust the most comfortable collar length to your dog, do not too loose or too tight.
3. Avoid leaving the receiver on the dog for more than 12 hours per day.
4. To make your dog to adapted to the training tool, it is recommended to start training dogs at a lower level.
5. Check the dog's skin condition every day.
Report Copyright Infringement
Report Copyright Infringement
Successful Submit!
Thank you for submitting this report We will process as soon as possible
A new item has been added to your Shopping Cart.