Photo by
Supplier
We've obtained authorization from the supplier or seller to use the product photo; they've guaranteed its ownership or legitimacy of usage, and we are held responsible for all actions Should you believe that the photo violates your copyright, please contact us with evidence, and we will take action immediately 
Report Copyright Infringement
Gray Curly Short Wigs for White Women Silver White Mixed Brown Wavy Bob Wig with Bangs Synthetic Hair Replacement Wig Christmas Party Wigs
#9362827
USD $19.49
USD $38.97
50% OFF
Copyright Violation Instructions
Please note:
When you choose pictures that need to be customized, you must ensure not to violate any copyrighs. If, after the completion of the customization, any copyright infringement problems should occur, we cannot be held responsible for those. Please make sure you agree to our Terms and Conditions. If you do not have any further questions you can click OK to continue shopping. Thanks again for choosing to shop with us.
Please make sure you agree to our Terms and Conditions.
Overview
Reviews(6)
Recommendations
Overview
Reviews(6)
Recommendations
1.
Hair Material: Synthetic Hair - Soft and Natural;100% High Quality Heat Resistant Fiber.,
3.
Cap Construction: Machine Made - 1.Net Cap,Breathable and Comfortable to Wear. 2.Adjustable size:There are two adjustment straps inside the wig, which can be intertwined to a fixed position to suit different head sizes.,
Specifications
Specification
Category:
Synthetic Wig
,
Hairstyle:
With Bangs
,
Hair Material:
Synthetic Hair
,
Texture:
Curly
,
Color Shade:
Blonde
,
Cap Construction:
Machine Made
,
Gender:
Women's
,
Features:
Fluffy
,
Comfy
,
Fashion
,
Easy to Carry
,
Party
,
Length:
Short
,
Can Be Permed:
No
,
Heat Resistant:
Yes
,
Wig Type:
Natural Wigs
,
Photos
Size Chart
| Cap Size | Cap Circumference | Front to Back | Side to Side Across Forehead | Side to Side Over Top | Temple to Temple Across Back | Nape of Neck |
| --- | --- | --- | --- | --- | --- | --- |
| Average | 54-57 | 34-37 | 32 | 32 | 38 | 14 |
Learn More About This Product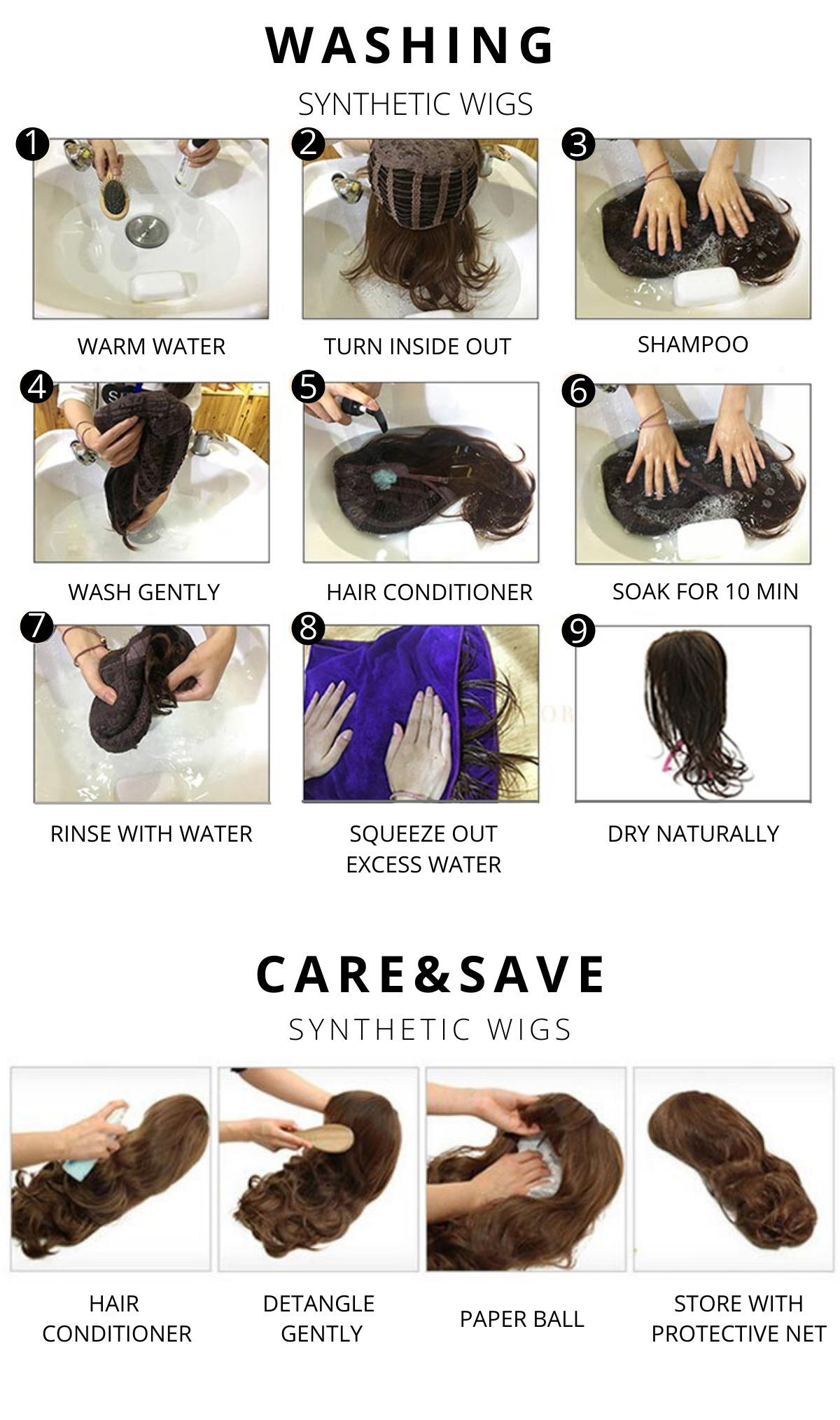 Frequently Asked Questions
Q: What is the difference between human hair and synthetic hair?

A: A human hair wig is longer lasting, soft and feels natural to the touch. It can be styled and dyed just like your own hair and "breathes" so your scalp won't perspire as much underneath. But human hair wigs need to be styled after every wash, and are more expensive because of its limited supply. A synthetic hair wig is easy to care for without requiring styling after washing, and is less expensive than human hair. However, it cannot take high temperatures, meaning it cannot be styled with an iron, and has a shorter lifespan if you wear it every day.

Q: What is Capless / None Lace Wig Cap?

A:Capless wigs are constructed with solid lace tops and open rows of wefts on the sides and back to create improved ventilation. If you've grown weary under heavy and warm wigs, traditional capless wigs are a great option. This flexible open cap design offers positive benefits to wig wearers:

More room for airflow

Lightweight and breathable design

Improves overall comfort

Q: Can I use low heat to style my wig?

A: Yes, our wigs are heat friendly. We suggest the heat below 300° Fahrenheit (149° Celsius) to avoid damaging the fibers. You can heat it with regular heat styling tools (hair dryer temperature is the best choice).

Q: How long can I expect this wig to lasts?

A: The life of the wig depends on how you use and care it. If kept well, it can last for about 6 months to one year.

How do I wear my wig for the first time?

A: Remove wig from the plastic bag. Gently remove the protective hair net from your wig. Give your wig a few good shakes to separate the fibres to give some body to the hair. Some wigs need to be shaken to release the pre-set styling. Brush your hair away from your face and secure a wig cap in place, tucking in any extra hair. Hold your wig at the sides with the woven label in back. Place it at your natural hairline and slide it on from front to back. Adjust the wig as needed so the front edge is just over your natural hairline. Use the ear tabs to centre your wig from left to right. If the wig is too tight undo the hooks at the base of the neck and try again. If the wig is too loose move the hook up a level and retry the wig - repeat until comfortable. Tuck in any stray hairs at the front, sides and nape. Use a soft brush to style.

How do I store my wig?

A: The best way to store your wig is on a wig stand. Not only does this help prevent your wig from becoming tangled or flat between wearing, it also helps to maintain your wigs style and shape. Ideally, your wig should be stored in a clean, dry place, away from dust and sources of high heat or flame. If you do not have a wig stand always store your wig turned inside out and place it in a shoe box or similar.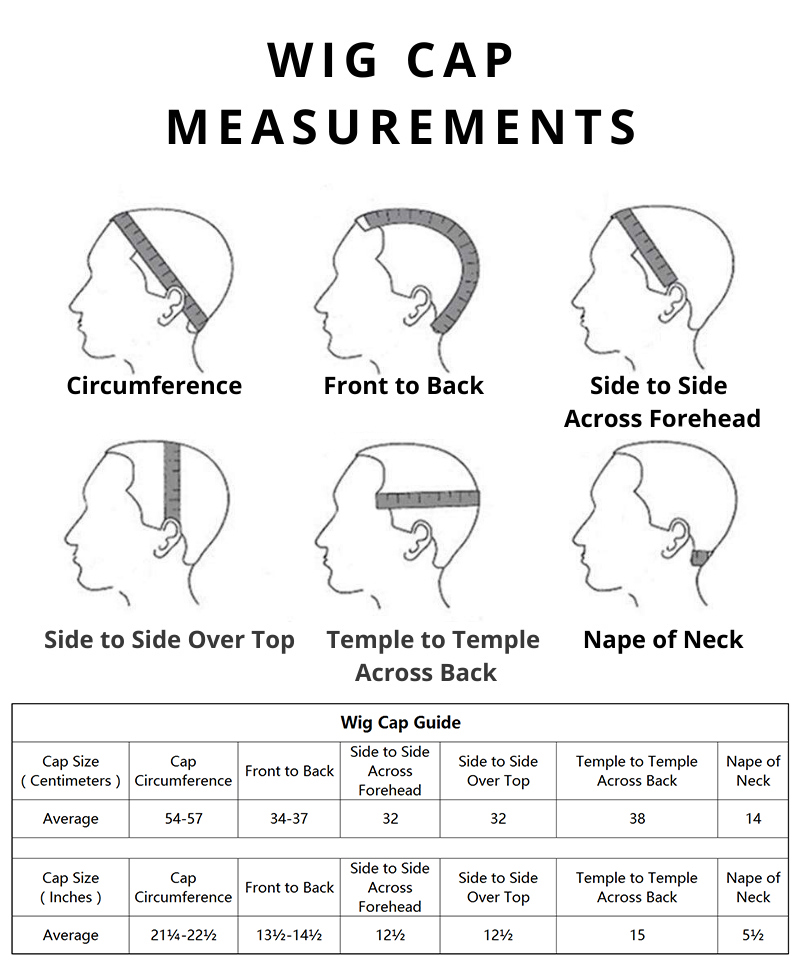 Report Copyright Infringement
Report Copyright Infringement
Successful Submit!
Thank you for submitting this report We will process as soon as possible
A new item has been added to your Shopping Cart.