Video by
lightinthebox
We've obtained authorization from the supplier or seller to use the product photo; they've guaranteed its ownership or legitimacy of usage, and we are held responsible for all actions Should you believe that the photo violates your copyright, please contact us with evidence, and we will take action immediately 
Report Copyright Infringement
Women's Human Hair Toupees Straight Machine Made Soft / Party / Women Party / Evening / Daily Wear / Vacation for Women with Thinning Hair and Hair Loss
#8661690
USD $14.49
USD $28.57
50% OFF
Copyright Violation Instructions
Please note:
When you choose pictures that need to be customized, you must ensure not to violate any copyrighs. If, after the completion of the customization, any copyright infringement problems should occur, we cannot be held responsible for those. Please make sure you agree to our Terms and Conditions. If you do not have any further questions you can click OK to continue shopping. Thanks again for choosing to shop with us.
Please make sure you agree to our Terms and Conditions.
Overview
Reviews(85)
Recommendations
Overview
Reviews(85)
Recommendations
Selling Point
✿Material: 100% human hair that can be curled,dyed,washed, Treat it jusy like your own hair.
✿With Sensitive hair Clips, easy to wear yourself
✿Only light color can be dyed into the dark color, natural color can be dyed into any color, but if you do not have the dyeing training, we do not advise you dye it yourself.
✿Used to cover white and thin hair add volume for thin hair, suitable for Light to Moderate Hair Loss at the Part or Crown.
✿Strongly fixed in your hair, will not fall off no matter sports or strong wind

Why Choose Remeehi Top Hairpieces:

Very easy to wear and easy to remove;

It will be very natural when you wear it, and nobody will find that you are wearing a topper;

A perfect solution to

Add volume

Conceal new growth between colors

Cover the top crown white or thin hair

Drive away your cares about hair loss

Different stages choose different size:

Beginning - small base

Progressive - medium or large base

Advanced - largest base or full wig
| | | | |
| --- | --- | --- | --- |
| Breathable hair base | Natural real look hairline | Natural black & Brown | |
Step 1: Clearly identify anterior-posterior direction.Detangle the hair with a wig comb.Open all clips on the underside of the topper.
Step 2: Place the front edge of the topper approximately 1-2 inches from the front of your hairline, positioning it over the area of hair loss, and secure the front clip.
Step 3: Place light pressure over the top of the hairpiece and run your fingers over the length of the base to secure the back clip.
Step 4: Style and blend hair as desired.
Hand wash only in cool or warm water with shampoo.Do not rub, scrub, bunch your hair either while washing it.Do add a leave on conditioner after washing too,absorb excess water and comb it then left to dry naturally.Don't wash the extensions as much as our natural hair.We recommend to stay away from products that include sulfate and alcohol.
1.
Hair Material: Human Hair
2.
Cap Construction: Machine Made
3.
Occasion: Daily Wear Party / Evening
Specifications
Category:
Toupees
,
Hair Material:
Human Hair
,
Texture:
Straight
,
Origin of Hair Donors:
Other
,
Color Shade:
Dark Brown
,
Black
,
Cap Construction:
Machine Made
,
Gender:
Women's
,
Features:
Comfortable
,
Easy dressing
,
Women
,
Party
,
Soft
,
Net Weight (g):
100
,
Age Group:
Adults
,
Special selected products:
COD
,
Listing Date:
06/03/2021
,
Occasion:
Daily Wear
,
Birthday
,
Vacation
,
Party / Evening
,
Photos
Learn More About This Product
Hair Color Chart
Hair Length Display
Straight
---
Wavy
---
Curly
Frequently Asked Questions
Q1: What is the difference between human hair and synthetic hair?
A: A human hair wig is longer lasting, soft and feels natural to the touch. It can be styled and dyed just like your own hair and "breathes" so your scalp won't perspire as much underneath. But human hair wigs need to be styled after every wash, and are more expensive because of its limited supply. A synthetic hair wig is easy to care for without requiring styling after washing, and is less expensive than human hair. However, it cannot take high temperatures, meaning it cannot be styled with an iron, and has a shorter lifespan if you wear it every day.
Q2: What are the different types of wig caps?
A: Capless is one of the most common types of wigs. The base of any wig is referred to as a cap. The hair is attached to the wig cap using a variety of techniques to achieve different looks. On most wigs, hair is attached in "wefts." These are strips of hair doubled over and sewn closely together in long strands.
Monofilament caps use a gauze-like, nearly transparent material that each hair section is hand-knotted onto. This kind of wig can be styled more easily and can ventilate your scalp to avoid heat and moisture buildup. The thin cap material is difficult to detect and therefore very natural-looking. Monofilament wigs are specially designed for those with thinner hair or sensitive skin.
Lace wigs use a piece of mesh lace just beyond the front hairline of the wig, which each hair section is attached to. These can be temporarily glued to the skin around the hairline to make the lace cap nearly invisible. Mesh lace allows for natural-looking partings in the hair, as well as weeks of wear at a time, even during swimming or sports. All lace wigs need periodic maintenance and can last for six months or longer.
There are two types of lace wigs: front lace and full lace :
Full lace wigs have lace material all around and can be parted anywhere on the scalp for greater breathability and comfort.
Front lace wigs have lace material at the forehead only and are more natural and undetectable. Unfortunately, these wigs cannot be pulled back into a ponytail.
Q3: How do I put on a wig?
A: After removing your wig from the box, take off the protective hairnet (if the style has one) and give it a good shake. If it is a ready-to-wear synthetic hair, you are ready to go! If it requires customization (such as trimming a lace front), we recommend you consult a hair stylist. Check out our salon locator to find local salons familiar with wearable hair.
If you have a lot of your own hair, the first step is to gather it back and up. One great trick is to separate hair into two sections on each side of your head. Twist the hair as you pull it back and around the head so that it will eventually lay flat. This tactic can help avoid a pony tail bulge. You may choose to use pins, braids, wig caps (recommended). A wig cap can be helpful even without hair to keep wigs secure and in place. Hold your wig at the sides and starting at the front, place it at your natural hairline. Slide it on toward the nape of your neck .Adjustable straps at the nape may help to achieve a more secure fit. If handling a lace front wig, take care not to tug on the lace as it can be a bit delicate. Don't worry if it doesn't look perfect right away, start styling
Q4: How should I care for a wig?
A: Yes, wigs made with human hair can be colored or styled as you would your own hair. It can be Straightened and Restyled,we kindly suggest 150 ℃, even Human Hair will be burned if the temperature is too high.Please Raise the temperature little by little to text it first.Please let the wand/curl sits on the hair around 3-5 seconds.
Q5: Are color swatches 100% accurate?
A: Hair color images are presented to give you a visual representation of color options for each item. However it must be noted that on screen representations do not necessarily precisely represent actual colors due to variable monitor calibrations. Additionally, the computer or device you use may have an impact on how colors appear.
Q6: Can I color or straighten the hair in this wig?
A: Yes, wigs made with human hair can be colored or styled as you would your own hair. It can be Straightened and Restyled,we kindly suggest 150 ℃, even Human Hair will be burned if the temperature is too high.Please Raise the temperature little by little to text it first.Please let the wand/curl sits on the hair around 3-5 seconds.
Q7: How to prevent hair tangles?
A: Make a habit of combing your hair from the bottom upwards, comb your hair with your finger gently.Use a volumizing shampoo if your hair is fine or thin. Usually fine and thin hair are prone to tangling and by using shampoos that add volume and movement to thin strands, you can minimize the chances of encountering tangles with your hair.
Q8: How long can I expect this wig to last, and can I wear it to swim or play sports?
A: Typically, hair wigs can last up to a year or longer. Lace wigs should last up to three to six months, depending on how often they are worn and how they are cared for. We do not recommend touching water. It can put too much stress on the hair and create unmanageable tangles. Also, pool chemicals and salt can damage the hair and affect color.
Measurement Tips for Wig Cap: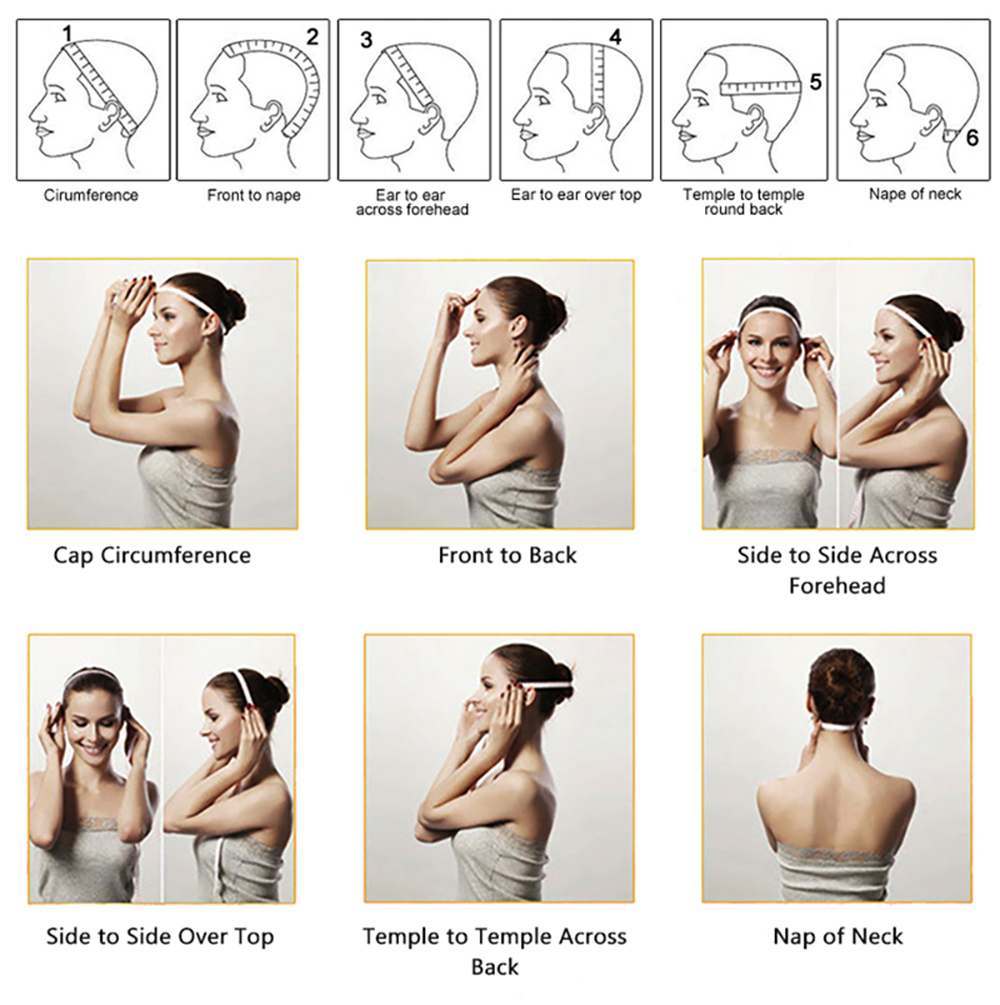 Report Copyright Infringement
Report Copyright Infringement
Successful Submit!
Thank you for submitting this report We will process as soon as possible
A new item has been added to your Shopping Cart.