TOP TRENDS AND INSPIRATIONS FOR THE 2022 PROM
It's here: the event you've been waiting for the entire school year. If you are looking for a special model or inspirations for party dresses you have come to the right place!
What should you look for in the right dress? Well, it all begins with your own perception of what it should look like. Surely, you already have an image in mind regarding how you are going to look on this lovely evening. You walk in the ballroom, and everyone simply stops and looks at you. The good news is that you can turn this image into reality.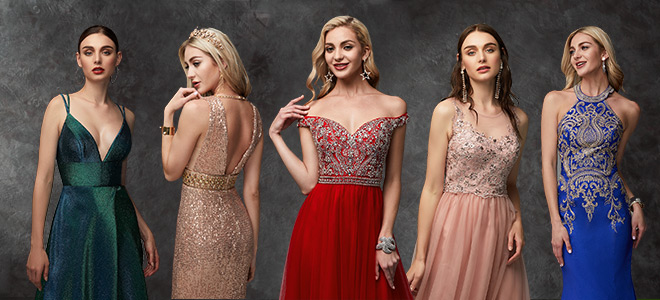 As your go-to resource for cutting-edge fashion, we have a little inside scoop from the top prom dress designers on what's to come for prom 2022.The styles of 2022 party dresses bring subtle and delicate options or with a lot of daring, glitz and glamor. Finding the perfect prom dress is like a rite of passage in a teenage girl's life, so you want to start your search early.
Check out following styles, 2022 trends and inspirations for you to rock and be the star of the party!
For the girl whose personal style doesn't call for all of the bling, but still wants to turn heads, a trend have dubbed "Simplistic Couture", may be more your speed. It is a type of aesthetic preference that values functionality, elegance and timelessness. Although these dresses are adorned with little to no beading, they are far from simple. Simplistic couture dresses usually feature plunging necklines, thigh high slits, or strappy backs. Dresses that fall into this category could be a-line gowns, mermaid dresses, or a more body conscious fitted dress. They are a great option to be sexy without being vulgar, Come and see some of our style. Here >>
2. Glitter, Sequins, and Sparkle
This year it's all about the beautiful glitter fabric. The sparkly glitter fabric is perfect for someone who wants to stand out and make a statement! Glitter, Sequins, and all things that Sparkle are trending for Prom 2022, so be prepared to be blinded by bling this year. Here >>
It's all about red, red and more red. Was it ever not? We can always count on a classic red dress as our go to style. Here >>
For the first time in recent years the one shoulder is taking centre stage! So ladies, start working on toning those shoulders for this very striking and flattering silhouette. This year the one shoulder is featured in ball gowns, mermaids and satins. Here >>
Illusion gowns and dresses are one of this year's most popular looks. These designs let you show off a hint of skin while maintaining a super glamorous and sophisticated style. We have long formal dresses with illusion tops for prom or pageants and short illusion party dresses embellished with delicate lace or sparkling beaded accents in both sleek body conscious designs or with twirl ready fit and flare skirts.When the transparency is well chosen, it brings guaranteed elegance without leaving the sensuality aside! Here >>
Two-piece gowns and crop top dresses continue to rock the red carpet and create a youthful yet elegant vibe at this year's homecoming events and prom. Here >>
7. Ball Gowns and Princess Gowns
It's all about the ball gowns yet again this year and we can't wait! Last year saw the rebirth of the ballgowns and it proved to be such a popular style amongst our customers. This year the ballgowns are set to be HUGE! For the girl looking for a fairy tale prom experience a princess ball gown will always be on trend. Here >>
We could not leave out the style that has been successful among women and that promote continue on high. In addition to reflecting femininity and elegance, it offers greater body shape and super value the feminine curves! Here >>
This spring summer It's all about the lace up back,which is another highlight of the 2022 collection. It doesn't matter if you want fitted or floaty, once the new collection drops you will want a lace up back. Here >>
It's all about the high low. Following on from one of our most popular styles of 2018 the high low is back and better than ever! The ideal style for those who can't decide if they want to go long or short. Here >>
11. Junior Prom and Semi Formal
We also have cute short cut out dresses for junior prom, semi formal dances, or wedding guests that are flirtatious and fun. Dainty lace gowns with sleeves and strapless cocktail dresses embellished with dazzling sequins, metallic fabrics, or dramatic bead work that will give you a sensational spotlight-stealing look for any occasion you want to make special. Here >>
What types of dresses for each body type?
If you are preparing for prom, there are a few important factors that must be taken into consideration before you decide on the gown that you are going to buy. Let's start with the type that you should look for. As you surely know, there are various body types. Not all dresses are going to compliment a certain body frame or figure, which is why it would be recommended that you learn more about your own and what kind of dress would look best on you. Do let that beauty come from the inside out! Know your body type, value your source points and we'll help you with the perfect dress part. :)
Lucky you! Your buttocks and bust lines are very well balanced and the waist is also defined beautifully. Your buttocks are round naturally and your body is in proportion throughout. You have slightly rounded shoulders that align perfectly with your shapely buttocks, and your legs are in proportion with your upper body. Though your figure is the most attractive, you can go wrong if you don't wear the right clothes. Here is what you should do.
Accentuate your waist and wear clothes that show off your perfect curves. Wear broad belts over your shirt or dress, wrap-around tops and skirts, flowy dresses, or dresses with pleated waist, pencil skirts, ¾ skirts with side or back slits.
What Not To Wear
Stay away from shapeless and loose tops and dresses, and gaudy embellishments.
You know you have a straight body type if you have the same measurements for all sections of your body. This body shape is popularly known as the supermodel body. This type is also been called rectangular or ruler body. Since it does not have a well-defined waistline, the body tends to look straight.
Tube tops or dresses would look charming on you. Not only does it suit the shape of your body, but also highlights your features. A nice and snazzy belt along with a tube dress would be a stunner. This will also help you create that slim and sexy hourglass shape you must have desired for. You should wear bright colors, try different textures, and cuts.
What Not To Wear
Do not wear clothes that highlight your waist. Avoid wearing rigid and shapeless clothes.
3. Triangle Body Shape and Pear Body Shape
They are also quite fascinating and beautiful to look at. Triangle body shape or the pear body shape is characterized by large hips that are bigger than the rest of the body. This creates a nice shape that resembles the number 8 and shows off those curves well.. You tend to easily gain weight in your thighs and arms section whereas your legs and lower arms are worth flaunting. Here is how you can make your body look perfect.
Wearing bright and beautiful scoop-neck and boat-neck tops. This will make your shoulder look wider. A-line skirts, , padded bras, well-defined shouldered dresses, well fitted dresses around the waist, and a pushup bra or a padded bra will make your upper body and lower body look balanced. Gorgeous bracelets and accessories should be used to highlight the appearance.
What Not To Wear
Avoid wearing balloon dresses, dresses that are overly ruffled or pleated below your bust, or tight skirts.
4. Inverted Triangle Body Shape

Oohh one hot body shape this is! Your body shape resembles that of Naomi Campbell. You have broad shoulders, small hips, and slender legs. Though you do not have a well-defined waist, your upper body is voluminous and should be accentuated to draw away attention from the waist. Let's find out how you can do that.
Ruffles around the neck, front pockets in skirts, satin dresses, V-necks, A-line dresses and skirts, slender necklace, long dresses and sequined skirts.
What Not To Wear
Pencil skirts, spaghetti and noodle straps, ¾ sleeves, horizontal stripes across your shoulders, baggy waistline, and padded shoulders.
Remember, no matter what the fashion magazines say, the right style for you is the one that makes you feel confident and look your best! SHOP PROM DRESS >>


SHOW US YOUR STYLE

YOUR PROM CHECKLIST
Obviously! Start shopping a few months out so there's time to find The One.
Stilettos, wedges, glitter sneaks…prom shoes mean fancy feet.
Outside: Shiny. Inside: Wallet, phone, keys, lip gloss, mints, compact mirror,get in tickets.
Pick out a choker, bracelet, and earrings that complement your dress.
Makeup & Hair & Nails >
Do a trial run of your prom makeup (we are loving a bold glitter lip) and take a test selfie under different types of lighting. Get your prom hair done in a button-down or zip-up top so you can get dressed later without pulling anything over your head.Gather friends for a mani-and-planning session at home or the salon.
Pre- and Post-Prom Plans >
Decide where you'll take group pics and where you'll celebrate after the dance.