Video by
lightinthebox
We've obtained authorization from the supplier or seller to use the product photo; they've guaranteed its ownership or legitimacy of usage, and we are held responsible for all actions Should you believe that the photo violates your copyright, please contact us with evidence, and we will take action immediately 
Report Copyright Infringement
Dog Training Shock Collar Remote Controlled Adjustable New Design Dog Pets Electronic Behaviour Aids For Pets
#7812807
USD $32.99
USD $116.99
72% OFF
Copyright Violation Instructions
Please note:
When you choose pictures that need to be customized, you must ensure not to violate any copyrighs. If, after the completion of the customization, any copyright infringement problems should occur, we cannot be held responsible for those. Please make sure you agree to our Terms and Conditions. If you do not have any further questions you can click OK to continue shopping. Thanks again for choosing to shop with us.
Please make sure you agree to our Terms and Conditions.
Reviews(484)
Overview
Recommendations
Reviews(484)
Overview
Recommendations
Overview
The dog is the best friend of humans, they always let you feel warm, happiest. But sometimes dog's bad behaviors will negatively your relationship with your dog. like barking, chasing, chewing, biting would annoy you. Let HKZOOI Dog Training Collar help you to correct your dog's bad behavior, build a great relationship with your dog.
HKZOOI dog training collar - Perfect solution to all your dog training needs
--- 3 Dog Training Modes, Beep, Vibration and Shock
--- Safe Fixed Silicone Contact Prong
--- Up to 1640FT Control Range
--- Easy to Charge and Long-Lasting Battery Life
--- Receiver with IPX7 Waterproof
--- Adjustable Belt for 15lbs-100lbs
Safe Silicone Points

Dog shock collar receiver contact point with upgraded conductive silicone cover, the prongs are safe and would not hurt the dog's skin. The prongs also can not be moved, you don't worry the prong would fall during training the dog.

Shock mode sometimes acts as a form of punishment. If you want to use this mode, please try it on the lowest setting to start.

Easy to Charging

It comes with a USB charging cable. Both the receiver and remote are rechargeable, they can be easy to charge by power adapter, power bank, laptop. They usually take fully charging within 3 hours.

NOTE: Power Adapter Not Include In The Package

Double Safety Settings

The vibration and shock mode with ZERO level to avoid accidental vibration or shock the dog.

In addition, there are anti-accidental shock settings, when you want to switch beep or vibration mode to shock mode, you need to double click the shock mode, then the shock function work.
Long-Lasting Battery Life

Is it annoying that the receiver or remote does not have electricity during dog training? Don't worry it will not happen in HKZOOI shock collar for dogs.

Our remote can last for 90 days standby time and be able to work 25 days.

The collar receiver can last for 15 days standby time and be able to work 7-10 days.

Long Remote Control Range

Remote dog training collar can reach up to 1640 ft (550 yards) in barrier-free areas, 1000 ft (330 yards) in barrier areas, so you can train your dog in the backyard, field, park or beach and so on.

100% IPX7 Waterproof

This dog collar for large dogs receiver has IPX7 waterproof, the dog can enjoy swimming, showering, and playing in the rain.

(Note: The remote is not waterproof. Please make sure the receiver charging port is sealed before the dog enters the water.)
How to Install the Belt
Step 1

Pass the nylon collar belt through the receiver.

Step 2

Pass the nylon collar belt through the tri-glides buckle

Step 3

Pass the nylon collar belt through the side release buckle.

Step 4

Pass the excess nylon belt throgh the tri-glides buckle again.
Tips: In order to ensure the normal use of the dog trainer, please use it after charging. Please unplug the power supply in time after charging.
Specifications
Compatibility:
Dog
,
Pets
,
Power Supply:
Lithium Battery
,
Type:
Shock Collar
,
Features:
Remote Controlled
,
Adjustable
,
New Design
,
Training:
Behaviour Aids
,
Electronic
,
Product Dimensions (cm):
0.000*0.000*0.000
,
Net Weight (kg):
0
,
Package Dimensions (cm):
14.933*13.800*4.800
,
Photos
Learn More About This Product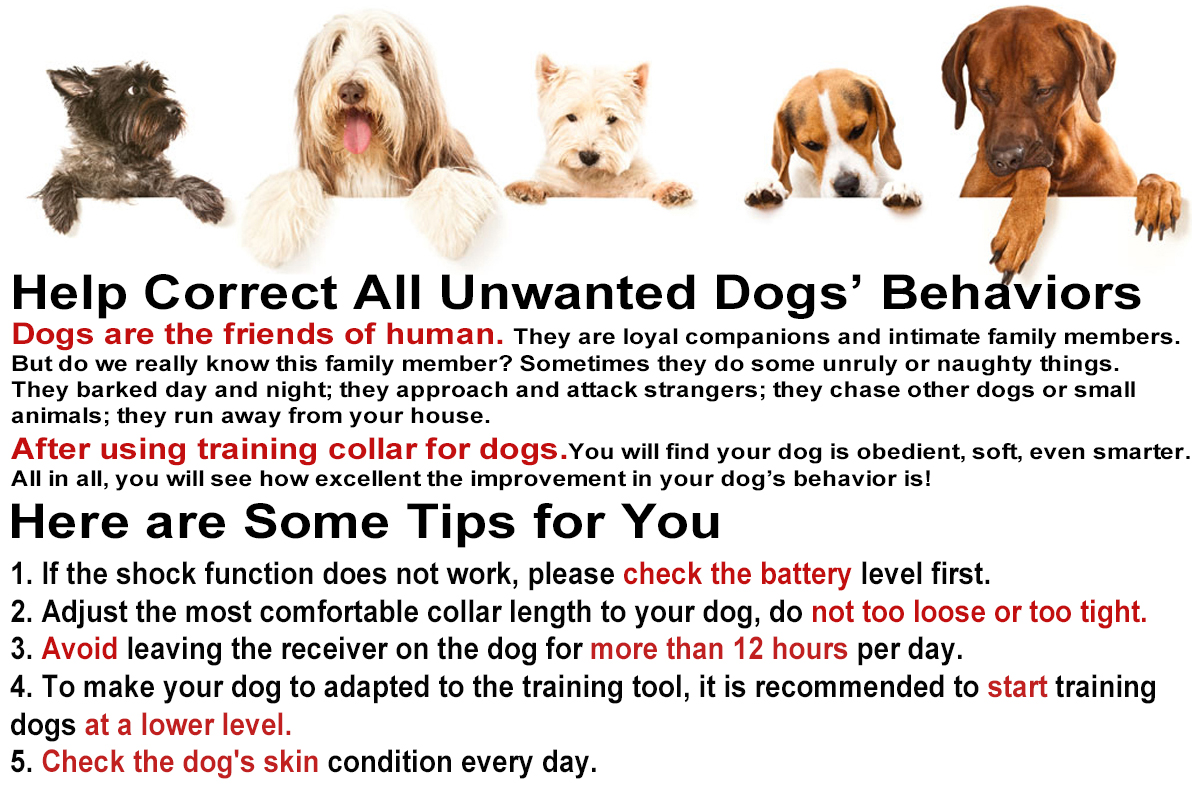 Help Correct All Unwanted Dogs' Behaviors:
Dogs are the friends of human.
They are loyal companions and intimate family members. But do we really know this family member? Sometimes they do some unruly or naughty things. They barked day and night; they approach and attack strangers; they chase other dogs or small animals; they run away from your house.
After using training collar for dogs.
You will find your dog is obedient, soft, even smarter. All in all, you will see how excellent the improvement in your dog's behavior is!
Here are Some Tips for You:
1. If the shock function does not work, please check the battery level first.
2. Adjust the most comfortable collar length to your dog, do not too loose or too tight.
3. Avoid leaving the receiver on the dog for more than 12 hours per day.
4. To make your dog to adapted to the training tool, it is recommended to start training dogs at a lower level.
5. Check the dog's skin condition every day.
Report Copyright Infringement
Report Copyright Infringement
Successful Submit!
Thank you for submitting this report We will process as soon as possible

Item Added Successfully
Go To Cart ()
Added to Cart
A new item has been added to your Shopping Cart.